Kategori:
Women In Jazz 2015
Women In Jazz Festival in Gothenburg
Women In Jazz Festival handlar om musik, makt, normer, samtal och möten. Festivalen är en mötesplats för jazzens alla mångfacetterade uttryck och handlar om att förändra och utmana normerna inom jazzen, och om att äga både musiken och scenen.
The Girls In the Band
European premiere on October 01 at Bio Roy in Gothenburg at 18.00-20.00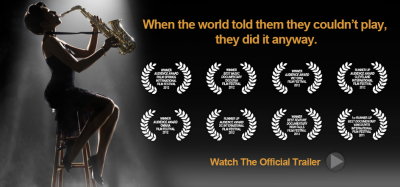 The Awardwinning documentary by Judy Chaikin tells the poignant, untold stories of female jazz and big band instrumentalists and their fascinating, groundbreaking journeys.
These incredibly talented women endured sexism, racism and diminished opportunities for decades, yet continued to persevere, inspire and elevate their talents in a field that seldom welcomed them.
Today a new breed of gifted young women are taking their rightful place in the world of jazz which can no longer deny their talents
Festival ticket 60:- at Bio Roy Kungsportsavenyn 45 Göteborg031-20 80 11
No Swedish subtitle
www.bioroy.se
After the film we are proud to welcome the Director Judy Chaikin on stage for Q&A
Judy Chaikin is a graduate of AFI's Directing Workshop for Women and is best known for writing, producing and directing the Emmy nominated PBS documentary, "Legacy of the Hollywood Blacklist". In 2004 she received her second Emmy nomination for the documentary, "Building on a Dream", and directed and co-wrote the short romantic-comedy film, "Cotillion '65", which has appeared in 40 film festivals winning Best Short, Best Comedy, Best Director and Audience Choice Awards. Ms. Chaikin was a Supervising Producer/Segment Director on the ABC series, "FBI: The Untold Stories", a Co-Producer of the CBS Movie Of The Week, "Stolen Innocence" and the Writer/Director of the bi-lingual PBS documentary, "Los Pastores". In 1996 Ms. Chaikin won the Blue Ribbon at the American Educational Film and TV Festival for the docu-drama, "Sojourner Truth: Ain't I a Woman?", featuring Julie Harris. Her theater directing credits include, "The Groundlings", "Rose", at the Odyssey Theater, the Broadway production of "Yenta Unplugged", and the Mark Taper Lab production of "True Romances." Her current documentary film "The Girls In The Band" won five Best Documentary Festival Awards and is now playing theatrically nationwide and international.best mover reviews
Källa:  http://www.imdb.com
FESTIVAL AWARDS
Audience Award, Best Documentary Feature – Palm Springs International Film Festival
Audience Favourite Feature, Victoria Film Festival
Audience Choice Documentary, Omaha Film Festival
The screenings in Sweden of "The Girls in The Band" and the director Judy Chaikin participating has been made possible by Katarina Hultin, Jämställdhetskonsult på Kultur i Väst.
The screening of the film and its director Judy Chaikins participating at LadyBug Festival is also a corporation with Bio Roy, Women In Jazz Festival (www.womeninjazzsweden.se), LadyBug Festival, nätverket IMPRA (www.impra.se ) nätverket WIFT -Women in film and television Sweden (www.wift.se) and DorisFilm
Visningarna i Sverige av "The Girls in The Band" och regissör Judy Chaikins medverkan på LadyBug Festival har gjorts möjlig tack vare Katarina Hultin, Jämställdhetskonsult på Kultur i Väst.
Visningen och regissör Judy Chaikins medverkan på LadyBug Festival är också ett samarbete mellan Bio Roy, LadyBug Festival, Women In Jazz Festival , nätverket IMPRA nätverket WIFT -Women in film and television Sweden och DorisFilm